Using my inspirations and transforming them into a finished piece, I am honored when it resonates with someone and they choose to own a piece of my artwork. All of the works on this page have been sold and reside happily in their new homes.
A Journey to Myself is hand-built and cold-finished with acrylic paint and low fire lusters. It represents another level of coming into my own and accepting myself for who and what I have become over the years. A ceramic sculptress who loves water and tries to reflect some of these feelings in this hand-carved sculpture.
Time Flies is about so many things, objects going out of fashion, and creating a new life for them in my sculptures, the busyness of everyday life, and the desire to slow down and really enjoy life. I have many hobbies in life and I'm never bored. I just wish there was more time to explore and cherish each day and moment as it comes.
Butterfly Dreams is reminiscent of my need to cocoon up and hide from the world every so often as to rejuvenate so I can keep on going, doing things that inspire my creativity. Hiking on the prairie, finding pieces of sagebrush that look like hands, finding a butterfly while walking on a beach, an old china doll leg, an old marble, and a wooden ball to remind me to keep playing in my studio and in life, trying new things, seeing each day in a new light.
Responsibility is one of my many water-inspired creations. She also reminds me of the paper dolls I had as a child. Her dress is wired on with copper wired and is made from coral from Tulum, Mexico I collected while enjoying a reprieve from a Wyoming winter. Her arms and some of her dress are made from fossilized Gar scales I collected while fossil hunting in Niobrara county Wyoming. Gar scales are common fossils found in Cretaceous to Eocene rocks in the Lance Formation which dates to about 65 million years ago. Gar is a fish still found alive and well in Florida, and is found all the way up the Mississippi and Missouri Rivers to Ft. Peck, Montana.
Alaskan Starfish. I saw so many starfish on my first trip to Alaska, I was so enchanted with them and all the surfaces they could hang on, their arms placed in all sorts of various ways.
"Emergent Unfolding"
ceramics and mixed media assemblage
2015
Rooted in the mud, Lotus flowers blossom and appear to float
above the muddy waters below.
I too have emerged from dirty, muddy waters over time: sometimes the Colorado River at flood stage, sometimes my art studio. Trusting life will provide support as I emerge into the shining sun, I embark on my artistic journey creating beauty from a broken world, blossoming into light.
Dragonflies begin to grow in water and then emerge into the air and soar.
I fly effortlessly downstream while navigating the deepest channel. It is this ever-changing route, guiding and inviting transformation that shows me the full range and spectrum of living. Staying open as the journey unfolds, adapting to seasonal changes with grace, colors shift as lights shine on different aspects of my life, allowing new perspectives and creative endeavors.
Emergence. The second figure I ever created in clay, I found myself emmerging into a new realm of creating artwork.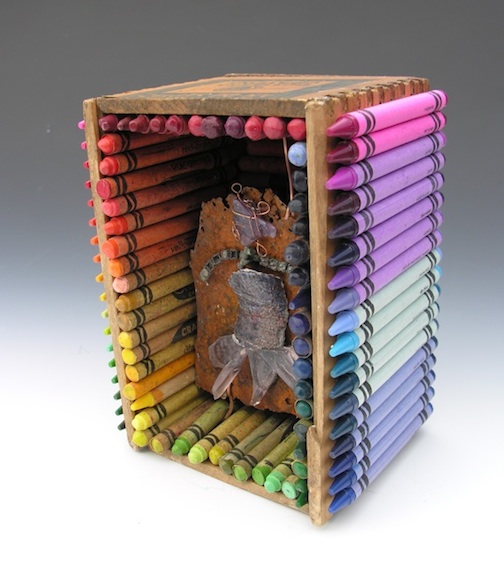 Grace is a very sweet person in my life. One might even say she gave me a new lease on life. As a child, she reminded me to laugh, and just how fun, necessary, and rejuvenating it is for one's well being. As a child, I loved coloring and some of the crayons in this sculpture are mine from when I was Grace's age.
Broken Wave. Water is a constant in my work. I love watching it. And, the exact moment a wave breaks in the sun is pure magic to me.
Ever After
Always in motion, going forward or standing my ground…carving out a place within the world for me to breathe freely. With a solid foundation of reading as a child, I created an active imagination and playful world for myself. I am easily transported into a world where I choose my own adventure. Putting one foot forward, I go out on a limb with the key to my future securely in front of me, my wings flying freely behind. As I reflect, I see all along, my fairy godmothers, making sure I stay the pat. Supporting me with subtle reminders that it is my job to serve you, the keen observer, an inner world where I promise to live, ever after, claiming this new image as I exquisitely craft time and transition into a new reality.
More water. This time from Tulum, Mexico. The skirt on She Caught the Moon is coral from Tulum, as are the little yellow shells around her waist. My boyfriend (now husband) proposed to me on that trip. The silver candlestick base reflects the light, just as the moonlight reflected on the ocean on our long, late-night beach walks.
Water Girl, that's me. A more fluid, river-like spine was what I wanted, so I created one for myself in Water Girl.  I sat in a lot of hot springs and found inspiration from the bubbles in her skirt made from a vintage wooden necklace my 92-year-old neighbor gave me. She saw it at the flea market and thought I should make something. She was flabbergasted at the result.